Bowhunting.net
2008

Bear Bowhunt With BHN and Fred Lutger

By Robert Hoague

Jul 12, 2008 – 12:01:50 PM

 
2008 Ontario Canada Black Bear Hunt

and Trophy Pike, Small Mouth Bass and Walleye Fishing Trip
Come Hunt With Fred Lutger and Robert Hoague and other Bowhunting.net personalities.
Join us in 2008 for a very exciting August black bear hunt in Ontario. Come by
yourself or with friends. The hunts will be covered online on Bowhunting.net in the Online Bowhunts.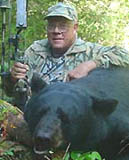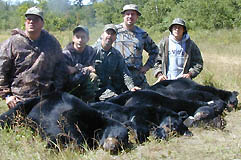 A list of gear you'll need will be sent when we receive your
deposit. Please call at once at 708-532-4133 for information or to book your bear hunt.

I only want serious hunters who will hunt hard and obey all game
laws and rules of fair chase. My goal is for every hunter to return
home with a trophy bear and memories of a safe and pleasant hunt. Call me at 708-532-4133 and let's bear hunt in
2008 …… Fred Lutger
Hunt Package – $2399.00 U.S.
Includes

Guide

Lodging

Bait

Stand location

Boat, motor and gas for fishing

Help with skinning of bear

Freezer service

Canada tax

Breakfast, Dinner and after hunt meal.
Not Included




Bear License ($185 Canadian funds)


Fishing license (varies)

Export permit for a successful bear hunter ($35 Canadian funds)
Lodging is in cabins fully furnished including:
refrigerator, stove, propane and solar lights, wood stove for heat. We also have an indoor shower house. Good roads to lodge. This package uncludes 6 days of hunting and 6 nights lodging. Non hunter is $950 U.S. per 6 days.


Bring your fishing gear for some of the finest Walleye, Small Mouth Bass, and Northern Pike fishing in Canada.
Fall 2008: August 15 – August 20. (Call Fred Lutger at 708-532-4133)

© Copyright 2005 by
Bowhunting.net